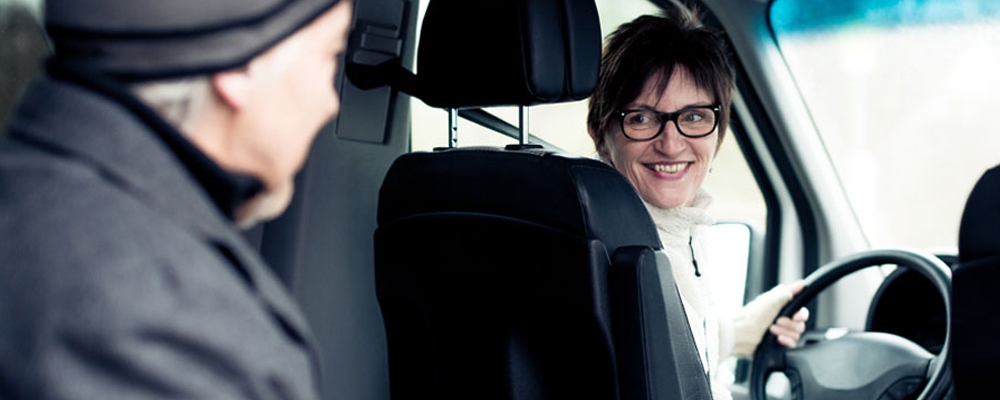 The emergence and growth of community vehicles across our rural towns is providing affordable, readily available transport to those in need.
On a wet December day, I drove into Darfield Library's carpark and parked beside a row of shiny cars and minivans branded with the same bright green logo. Inside the library, the members of Malvern Community Vehicle Trust Board were holding one of their quarterly meetings.
'Community vehicles provide rural transport at an affordable price,' explained Tony Henderson, ECan's Community Transport Advisor. 'A couple may live all their life in a rural town, and when their kids move away, they are faced with difficult decisions. If one or both can no longer drive, they may have to rely on friends to take them to medical appointments. If forced to move into town, they will be financially as well as socially worse off. Research has shown that in such scenarios, life expectancy drops. Having community vehicles in rural areas enables people to stay in their homes, get to medical appointments and remain connected to their communities.'
The Community Vehicle scheme is unique to Canterbury. Tony can take the credit for developing it from three trusts in 2011 to the 15 which now stretch from Kaikōura to the Waitaki Valley. Passengers pay for the service, but the cost is negligible compared to hiring a taxi. Errol Ashby, a driver for the Malvern Vehicle Trust and a member of the board, told me, 'A return taxi trip to Christchurch from Darfield might cost $120. We have a minibus shopping trip to Westfield Riccarton and Northlands every first and third Thursday of the month, for $15. Passengers can go to hospital appointments and back for $30. I had one Darfield lady who had to travel every day for three weeks for cancer treatment. Our service made a huge difference to her.'
Environment Canterbury gives an annual financial grant to each vehicle trust; half comes from the NZTA and half from rates. This goes towards vehicle replacement. The service relies upon drivers volunteering their time to keep passenger fees affordable. Journey charges aren't for driver wages – they offset petrol and running costs. The trusts can also apply to other funding sources such as the Lottery Grants Board.
For many, the chance to chat with the drivers is an essential part of the service; a listening ear on the way back from a hospital appointment is a godsend. One driver told me of a passenger he recently took to Burwood Hospital. 'He talked my ear off all the way back, I had no volume control, but it was good for him to be able to share.'
The 20 friendly volunteer drivers in Darfield are coordinated by Kathy Stirrup, a cheerful English woman who now calls Darfield home. When she receives a request for a ride, she calls around the pool of volunteers. In the past five years, she's only failed to find a driver twice. On those occasions, she drove the person to their appointment herself.
'It's a challenge when a call comes in at dinner time, and the person needs to be taken somewhere urgently,' she explained. 'I have a pretty good idea who to call on at times like that. Some drivers prefer to do local runs, and that's fine with me. We appreciate all the help we can get.'
Talking with the drivers and board members after their meeting was inspirational. They give up hours of their time each week to keep the service running. At the December meeting, the chair of the board handed out thank you notes, but it's obviously a belief in the need for the service that keeps the volunteers motivated.
Norman and Beryl Potter, a couple who regularly use the Malvern service, moved to Darfield from Auckland last year. Norman still drives, and when I raised my eyebrow at the fact they use the service for their Christchurch Hospital appointments, Beryl pointed out that she can't drive, and Norman is 90 years old — from his spritely demeanour, I assumed he was only in his seventies.
'We moved here to be closer to our daughter,' Beryl said. 'We have been amazed by how helpful and friendly everyone is. Using the community vehicle has helped us integrate quickly. The drivers are all local. It's been so wonderful getting to know them. Parking at the hospital's extremely difficult. Instead, we can take the community van and be picked up and dropped off at the door.'
Another local resident who uses the community vehicle regularly is 80-year-old Judy Burns, a Darfield resident of 29 years. Now her husband isn't well, and the Community Vehicle Trust has enabled her to keep in contact with her daughter in Christchurch.
'I go to see her every fortnight. It gives me a break. The drivers are so kind, and it's no problem if I ask them to stop somewhere on the way for a bit of shopping. Their timekeeping is always spot-on. I'm amazed more locals don't use the service. The vans are beautiful, and I often go into town with four or five others, so it's very social.'
One of the joys of Tony Henderson's job has been developing links between rural communities.
'I'm on the board of each trust which helps me share knowledge between them,' he said. 'One may be thinking of upgrading their vehicle while another is in need of an extra car. They can sell to each other to keep the costs down.'
With an aging population, the issue of isolated elderly people living in rural communities is only going to grow. It's not surprising other regions are taking an interest in the scheme. Tony recently travelled to Picton to help establish a vehicle trust there. From what I witnessed in Darfield the more vehicle trusts that can be started the better. To quote Errol Ashby, 'One of these days I might just need the service myself.'
There are currently 15 Community Vehicles in operation around Canterbury: Amberley, Amuri, Cheviot, Darfield/Malvern, Ellesmere, Fairlie, Geraldine, Governors Bay, Hawarden/Waikari, Kaikōura, North Canterbury (Rangiora/Kaiapoi), Pleasant Point, Twizel/Tekapo, Waimate and Waitaki.
By Sue Kingham – Latitude Magazine.