Ashburton/Mid Canterbury Connector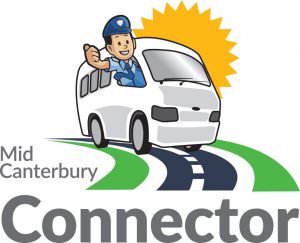 The Ashburton/Mid Canterbury Connector provides Mt Somers, Methven, Rakaia, Wakanui, Chertsey, Fairton and Hinds, return trips into the Ashburton township.
This service is being run by the volunteers of the Mid Canterbury Community Vehicle Trust. It's running on-demand five days a week.
Further information and bookings
Bookings need to be made by 2pm two days before the intended trip.
On-Demand Service
Monday to Friday only. 9.00am – 4.30pm
Drop-off Points in Town:
Ashburton Hospital,
Ashburton District Council Offices/Ashburton Library,
EA Networks Centre,
and WINZ/Community House.
Please Note:
Please pay the driver in cash.
Please try to have the correct amount.
Children 0-6 years are free (own car seat required).
Children must be 14 years or older to travel unaccompanied.
Download the timetable and travel conditions (PDF file, 2.1MB)
Please pay the driver in cash and try to have the correct amount.